London Eye evacuated after 'wartime bomb' found in Thames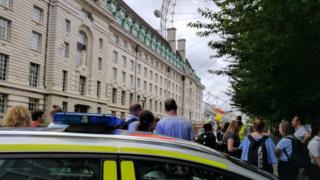 The London Eye and Westminster Pier were evacuated after reports of a unexploded wartime era "ordnance".
Police were called to the area at 10:30 BST after a suspected World War One or World War Two device was found on the foreshore on the River Thames.
Cordons were in place for 40 minutes. The area has been reopened.
Police said they would return to the area at low tide to remove the device.