Bethnal Green fire: One home destroyed and one man in hospital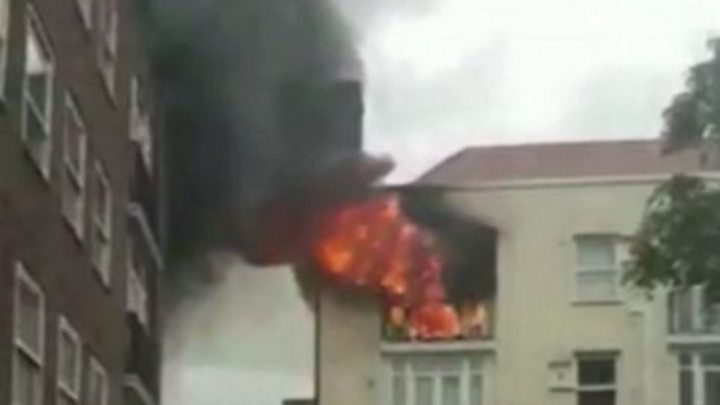 Residents had to be evacuated after a fire broke out on the top floor of an east London block of flats.
A man was taken to hospital after breathing in smoke at the four-storey building on Turin Street, Bethnal Green.
A total of 72 firefighters tackled the blaze, which destroyed one flat and the entire roof.
An investigation into the cause has been launched.
Smoke was "pouring out of every window of the block" as flames engulfed the flat and spread to the roof, according to an eyewitness.
The fire service was called at 16:25 BST on Saturday and the flames were under control by 19:30.
London Fire Brigade received almost 50 emergency calls.
As the fire spread, the roof of the building was reduced to "smouldering wood in about five minutes" according to eyewitness George Shankar.
"There was smoke everywhere, pouring out of every single window in the block of flats, and you couldn't see more than 50m down the road," Mr Shankar said.
Labour MP for Bethnal Green and Bow, Rushanara Ali described residents as "anxious given what has happened in Grenfell Tower".