Mark Duggan's family lose inquest appeal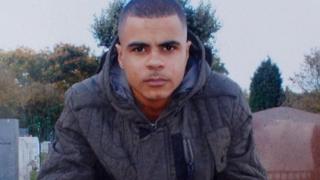 The family of Mark Duggan, whose death sparked riots around England, have lost a legal challenge against the conclusion his death was lawful.
Jurors concluded the 29-year-old was lawfully killed by a police marksman in Tottenham, north London, in August 2011.
Mr Duggan's mother, Pamela, had asked for the January 2014 finding to be quashed.
But three Court of Appeal judges have rejected her case.
His family was challenging an October 2014 High Court ruling which found the jury was legally entitled to have reached its conclusion.
'Matter of common sense'
They found that the police officer who twice shot Mr Duggan, known as V53, "honestly believed" he was holding a gun at the time.
At the appeal court, the family had argued jurors should also have been directed to consider whether the police officer's belief was also reasonable.
But the judges said there was "no need for the coroner to spell out to the jury that, as part of their decision whether V53 honestly believed that Mr Duggan had a gun and was about to use it, they needed to consider whether such a belief was reasonable".
They said this consideration was, as "a matter of common sense", an "inevitable part of the exercise".
Mr Duggan's shooting led to five days of rioting in London, which spread to other cities across the country.
Armed officers intercepted the minicab Mr Duggan was travelling in, believing he was part of a gang and had collected a gun.
The inquest jury concluded Mr Duggan, who jumped from the taxi, had dropped the firearm on to some grass as soon as the minicab came to a stop.
But the jury also accepted officer V53 "honestly believed" Mr Duggan still had a gun at the time he was shot.
Despite appealing the verdict of the original inquest, the family did not seek a new hearing because the first was "too traumatic".