London councils walk away from share services agreement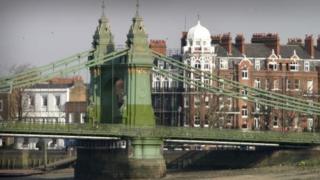 A six-year partnership between three London boroughs to jointly provide council services has collapsed.
Westminster, Kensington & Chelsea, and Hammersmith & Fulham boroughs have shared some services since 2011 in a bid to cut costs.
But on Monday, the Westminster and Kensington & Chelsea councils took a surprise decision to end the deal with Hammersmith & Fulham.
Hammersmith Council said the move was "evidently long-planned".
A joint statement released by the Westminster and Kensington & Chelsea authorities said the decision had been taken "in the face of uncertainty" caused by Hammersmith & Fulham, which they accused of "appearing to make alternative in-house plans without any formal engagement with the other two local authority partners about key services".
"This is causing anxiety to shared staff and placing potential risks to the joint services for vulnerable people in each borough," the statement added.
The council said the tri-borough agreement had led to improved results in children's services, school attainment results and youth offending services and produced a combined £43m of estimated savings.
Westminster Council leader Nickie Aiken said: "Both the leader of Kensington & Chelsea and I feel we are unable to continue when we have a partner that we do not believe is as committed to it as we are."
But Hammersmith & Fulham council leader Stephen Cowan said: "We've had concerns for some time about the value of the tri-borough, its lack of transparency and its built-in conflicts of interest.
"In our last two budgets, Hammersmith & Fulham Council found £31m in savings, but the tri-borough contributed no more than £200,000 of that.
"Problems with tri-borough contracts, procured by Westminster City Council, have cost Hammersmith & Fulham over £5m.
"And senior tri-borough officers have had to balance Hammersmith & Fulham's determination to keep Charing Cross Hospital open with Westminster and Kensington & Chelsea's support for closing it."
Hammersmith & Fulham council returned to Labour party control in 2014, while both Westminster and Kensington & Chelsea are Conservative controlled.
Westminster Council pointed to a tri-borough council report which identified £9.6m of savings achieved by Hammersmith & Fulham Council, up to the end of financial year 2013/14, through tri- borough initiatives - equivalent to 41% of total tri- borough savings of £23.3m identified across the three boroughs up to that year.