London repeat offenders to be tracked using GPS tags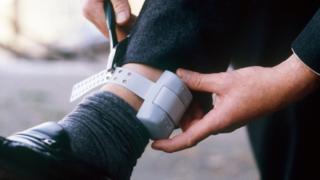 Some of London's most prolific re-offenders will be ordered to wear GPS tags, which will allow authorities to track them 24 hours a day.
Under the scheme, magistrates in eight boroughs can force offenders to wear the devices so that police can know their whereabouts at all times.
The London Mayor said the £150,000 pilot was the "first of its kind" and would help "make London a safer place".
But some have questioned the costs of using the technology.
Between 75 and 100 prolific offenders will be subjected to GPS tagging as part of the 12-month pilot.
The devices would be used as part of a community or suspended sentence and will allow authorities to monitor whether an offender is complying with a court order.
If somebody wearing a tag goes out of satellite range, an alert is triggered.
Sadiq Khan said the tags would help "detect whether someone was present at the scene of a crime" while also "supporting victims by alerting probation officers if conditions are breached".
Met Police Commander Neil Jerome said the initiative would "play an important part in reducing offending and preventing people falling victim to crime."
Napo, the probation workers' union, said while it "welcomed the use of new technologies", the use of GPS tagging was "not a panacea in its own right" and other schemes were required.
They also said costs of tagging were "extremely high and private companies running the contracts have repeatedly failed to monitor them and enforce them effectively".
The eight areas taking part in the scheme are Camden, Enfield, Haringey, Islington, Hackney, Newham, Tower Hamlets and Waltham Forest.