Policeman admits downloading 65,000 child abuse images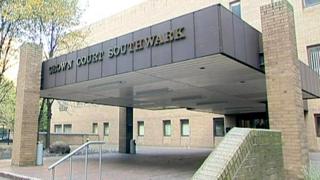 A Metropolitan Police officer has admitted downloading more than 65,000 pornographic images of children.
PC Peter Ba-Han, 55, pleaded guilty at Southwark Crown Court to one count of making indecent images of children.
Ba-Han said he did not know what the images were "at the time of downloading".
Sentencing will take place on 23 March. Judge Andrew Goymer said Ba-Han could expect a prison sentence.
"This quantity of images, albeit there may be some element of copying from one computer or another, is going to put it at the top end of the sentencing range," the Judge said.
Ba-Han, of Dawley, in Shropshire, was suspended from duty after police seized a computer and external hard drives from his home in May 2013.
Nicholas Yeo, defending, said his client would "inevitably" lose his job as a Met officer.
Ba-Han was placed on conditional bail until sentencing.