Lewisham freight train derailment: New track laid two weeks before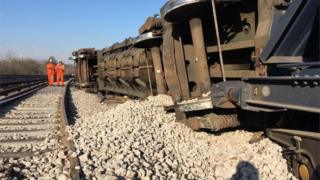 New track was installed on a railway line two weeks before a freight train derailed, an investigation has found.
Engineering work was carried out on the line just two days before two wagons overturned on 24 January - which caused the busy commuter route in Lewisham to close for six days.
New track was installed at the junction on 14 and 15 January, the Rail Accident Investigation Branch (RAIB) said.
Network rail said the follow-up work was to "bed in" the new track.
The RAIB's full investigation will examine the design and building of the junction.
It will also look at the condition of the derailed wagons and how they were loaded.
The train consisted of 18 wagons carrying building sand and was travelling at around 20mph when it derailed.
There were no injuries, but passenger train services suffered major disruption.
A spokeswoman for Network Rail, which is responsible for maintaining the UK's railway infrastructure, said: "The section of railway where the Lewisham derailment took place was installed two weeks before the incident.
"The follow-up work that took place in the vicinity of the incident was not to replace any track, but just to bed in the new. We are assisting the Rail Accident Investigation Branch with the investigation into the cause."