Tube delays due to overcrowding triple in last five years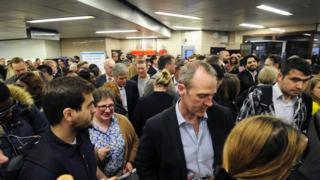 Delays caused by overcrowding on the London Underground have tripled over the past five years, new figures show.
Tube passengers lost a total of 390,786 hours in 2016 due to overcrowding, compared with 136,644 hours in 2012, Transport for London said.
Lib Dem Assembly member Caroline Pidgeon, who asked for the data, called for half-price tickets for people willing to travel outside peak hours.
Transport for London (TfL) said overall delays were down 40% compared to 2011.
The Jubilee Line was worst affected, recording 147,451 hours lost - four times the average waiting time. The Bakerloo Line had the highest number of actual incidents when there was overcrowding with 123 reported in total last year.
The figures include extra time passengers spent battling through crowds at Tube stations and on to trains, including queues at the barriers.
"These figures powerfully demonstrate that improvements to the Tube are in many places not even keeping up with the rising demand for travel" Ms Pidgeon said.
"There is a vital need to maintain investment in improving the Tube; however, we also need to go further and consider imaginative policies to manage demand on the Tube.
TfL said despite the increase the number of delays attributed to crowding in 2016, overall delays remained low.
Steve Griffiths, chief operating officer for London Underground, said crowding was "more often a consequence rather than a cause of delays".
"London's success means the city's population is growing" he added, "that is why we have one of the biggest investment programmes in the world" he added.