Boy, 15, found guilty of Notting Hill stab murder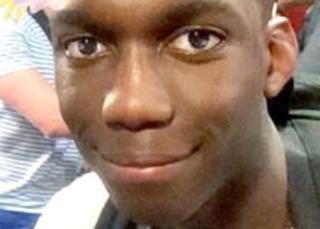 A 15-year-boy has been found guilty of murdering a teenager in Notting Hill.
Folajimi Orebiyi, known as Fola, was stabbed in the neck outside the Aston House estate in west London on 3 July 2016.
The 17-year-old then fled along the Portobello Road but collapsed. An air ambulance was called but he was pronounced dead at the scene.
The youth, who cannot be named for legal reasons, will be sentenced on 10 February.
A second boy, aged 16, was acquitted of Fola's murder.
In a statement, Fola's mother Yinka Bankole said "this is the most devastating moment of my life".
Ms Bankole said Fola was "passionately looking forward to university and was working hard on his grades to achieve it".
Fola's death had affected his family, friends, church and wider community, she added.
"I was in labour for 23 hours with him, yet it took less than four minutes to stab him to death, while several youths stood there and didn't ask for help or assist him, and Fola he bled to death."