Tube strike on Central and Waterloo and City lines ends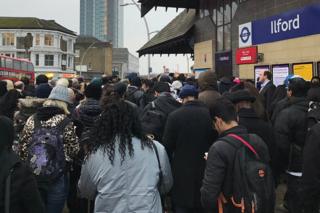 A 24-hour strike on two London Underground lines has come to an end but commuters have been warned of continued disruption into the night.
Rail, Maritime and Transport (RMT) union drivers walked out on the Central and Waterloo and City lines in protest over the movement of staff.
A reduced service ran on the Central Line and there were no trains running on the Waterloo and City line.
Other London Underground services ran as normal throughout the day.
The strike began at 21:00 GMT on Wednesday. Transport of London (TfL) have warned they "do not know" if services will be resumed before the end of Thursday.
British Transport Police (BTP) tweeted parts of the Central line had been "incredibly busy" because of the walk out.
Trains were running on the Waterloo and City line but stopped at 10:00 GMT.
---
Services affected
No service between Leytonstone and Epping/Woodford via Hainault on the Central line with severe delays on the rest of the line
A shuttle bus is operating between Epping and Chingford in north-east London with a service every 15 minutes
There are no trains running on the Waterloo and City line
No other Tube lines are affected by the strike
---
The dispute centres around plans to transfer eight train operators between Central line depots.
RMT general secretary Mick Cash said support for the strike had been "absolutely solid in all depots".
"If [London Underground] are allowed to get away with this move on the Central Line they will start shunting drivers around at the drop of a hat regardless of the consequences," he said.
Peter McNaught, operations director for the Central line, said: "We have made all reasonable efforts to resolve this dispute."