Police attacked while stopping illegal rave in Deptford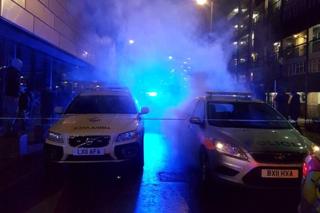 Police officers were punched and had cigarettes poked in their faces as they tried to stop an illegal rave in south-east London.
They had been called to Deptford High Street on Friday night after people were spotted entering a disused bank.
Police discovered an unlicensed music event was about to take place and tried to stop it. They said they were "rushed" by a "violent" large crowd.
Five officers were injured, with three taken to hospital for treatment.
Lewisham police tweeted that officers had also been spat at.
Two men and a woman were arrested and taken to a south London police station where they remain in custody, Scotland Yard said.