Mystery over thank you letter's intended receivers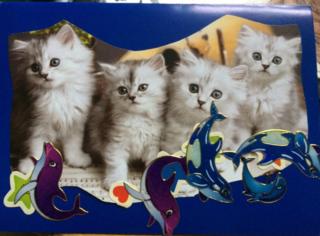 A woman who has received a mysterious thank you letter for the third year in a row is trying to unite it with the intended receivers.
Jessica Wren, 46, from Camden, in London, found the hand-written letter on her doorstep earlier this week.
It is decorated with dolphin stickers and a cut-out image of kittens, addressed inside to Alex, Irene and Anya, signed by a child called Tabby.
Psychologist Mrs Wren said she is keen to get the letter to the right people.
"There's no surname for these people or for the girl who is writing these letters, but this time she has gone to the trouble of decorating the paper with finger painting too, so I really want it to reach the people it's meant for," Mrs Wren said.
---
Tabby writes: "To Alex, Irene and Anya, Happy New Year!
"Thank you very much for the lovely Frozen nightdress you gave me for Christmas - it's my first ever nightdress as I usually wear Pyjamas and I Love it!
"Lots of love from Tabby xxx"
---
Mrs Wren, who has lived in the same house in Mansfield Road for 10 years, has no idea who Alex, Irene or Anya might be and without a surname Google searches have turned nothing up.
She has resorted to posting a message on Facebook with the help of her children Eliza, 17 and Tash, 15.
Mrs Wren said: "It could be a godparent or maybe a relation and the sad thing is the receiver has no idea the child is writing to them, because they have the wrong address."