Heathrow protesters admit blocking M4 motorway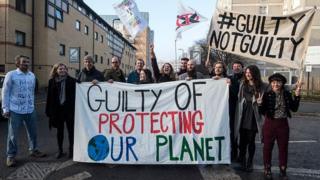 Twelve people have admitted blocking the M4 motorway in a protest at plans to build a third runway at Heathrow Airport.
The demonstrators lay down in the road last month.
Fifteen people aged between 21 and 67 were charged with wilful obstruction of the highway.
They were given a conditional discharge at Ealing Magistrates Court and asked to pay £105 in victim surcharge and prosecution costs.
The court heard that the protesters were joined together by plastic tubing, some of which had to be cut away.
Guilty pleas were entered by Madeleine Allis-Petersen, 24, of Ealing; Joanne Louise Bodimeade, 28, of Lambeth; Alexis Delage, 25, of Lewisham; Tom Venner-Woodcock, 29, of Southwark, and Tess Lotter, 30, of Camden, all in London.
Also pleading guilty were Antoine Thalmann, 25, and Henry Owen, 23, both of Oxford; Simon Bramwell, 44, of Stroud, Gloucestershire; Ian Bray, 49, of Kirklees, West Yorkshire; Graham Lewis, 53, of Wells, Somerset; Thomas Harford, 26, of Bristol, and Sibi Moore, 21, of Sidmouth, Devon.
Isabelle Anderson, 30, of Hebden Bridge, west Yorkshire and Sophia Lysaczanko, 28, of Haringey, pleaded not guilty.
Anderson will go on trial on 6 February at Uxbridge Magistrates' Court, and Lysaczanko will go on trial at the same court on 7 February.
Margaret Charnley, 67, of Bristol, was not at the hearing as she was excused from attending, but a lawyer indicated a plea of not guilty.