Ricky Hayden murder: Second teenager charged with killing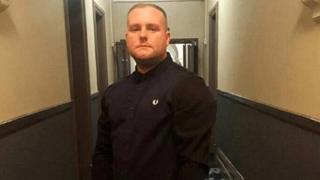 A second man has been charged with the murder of a celebrity minder.
Tarrel Hinds, 19, of Manford Cross, Chigwell, has been accused of murdering Ricky Hayden, who was stabbed outside his east London home on 13 September.
Mr Hinds was also charged with the attempted murder of Mr Hayden's father, Paul, 46, who was also injured in the attack.
Tommy Roome, also 19, pleaded not guilty to Mr Hayden's murder on 9 December.
A third 19-year old, Kevin Malamba, of Rodney Road, Southwark, was charged with perverting the course of justice over the attack.
Both Mr Malamba and Mr Hinds are due to appear at Barkingside Magistrates' Court on Friday.
Mr Hayden, 27, died from a stab wound to the thigh a day after he was attacked in Gibbfield Close, Chadwell, at about 01:25 BST.
Both he and his father were assaulted when they confronted a group of men outside their home following the attempted theft of a moped.
The bodyguard had worked in security at ITV and at high-profile events including the marriage between footballer Peter Crouch and model Abbey Clancy. He was also employed by Havering Council.
Another teenager, aged 16, was previously arrested over the attack before being released without charge.