Bank junction: Traffic faces ban in safety move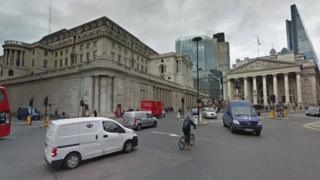 Only buses and pedestrians will be allowed on London's notorious Bank road junction as part of safety measures.
Traffic will be banned there between 07:00 and 19:00 on weekdays from April 2017.
The changes were voted through by the City of London Corporation after 34 cyclists and 31 pedestrians were injured there between 2011 and 2015.
Last year Ying Tao, a 26-year-old female cyclist, was killed when she was hit by a lorry turning at the junction.
Following her death a protest was held at the junction, and months later more than 13,000 people signed a petition calling for lorries to be banned during rush-hour.
Some 75% of collisions at Bank are said to occur between 07:00 and 19:00. The Corporation estimates the 18-month scheme could see a reduction in casualties of up to 60% per year.
Chris Hayward, chairman of the City of London Corporation's transport committee, said: "At the moment Bank is too clogged full of traffic, confusing for road users and not really a place that people can enjoy, when it really should be, as one of London's most iconic places."
The plan will be enforced with automatic number plate recognition (ANPR) cameras, and drivers will be fined if they break the order.
Taxi ranks will also be upgraded, although the United Cabbies Group has said it will fight the plan "every inch of the way."