City Hall tax rise 'to pay for Metropolitan Police'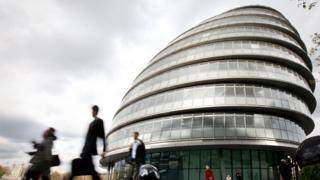 The Greater London Authority's share of council tax precepts will rise to meet a funding shortfall in the police budget, the mayor Sadiq Kahn has said.
He said he has to raise the precept by 1.99% to fund what he says is a £17.4 gap imposed by the government.
This proposed increase would see the mayor's share of council tax bills rise to £280.02 in 2017, from £276 in 2016 for an average Band D property.
Mr Khan said he was committed to a target of 32,000 officers for London.
The government has been contacted for a response.
The Met said it currently had 31,200 officers but the mayor said "it will get increasingly difficult to defend police numbers in the face of such significant government cuts and the previous mayor's reckless decision to cut the police precept last year".
He added government funding decisions meant the Met currently faced a total funding gap of £420m between 2017 and 2021. This is on top of the £600m already cut since 2013.
"The government has made it clear that they expect us to increase council tax by 8p a week and, reluctantly, I am left with no choice but to do so, in order to protect our city from the threats we face," he said.
The precept increase, he said, would provide a total of £11.2m in additional funds for the Met in 2017-18.
The remainder of the mayor's share of council tax is spent on services such as the London Fire Brigade, transport and the GLA itself.
But Conservative London Assembly member, Steve O'Connell, called the rise an "absurd" attempt to blame former mayor Boris Johnson for Mr Khan's "inability to balance the books".
"Boris was able to reduce council tax over his eight years - a move supported by Sadiq's Labour colleagues - whilst maintaining police numbers," Mr O'Connell said.
"With his reckless spending announcements over the past seven months, this will likely be the first of many increases placed on the taxpayer.
"Londoners will end up paying for the mayor's multiple irresponsible and publicity-seeking commitments."