Charing Cross and Victoria stations end toilet charges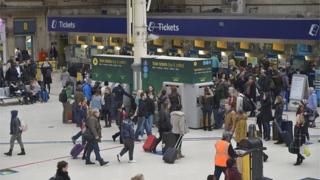 Toilet charges at two London railway stations have been stopped to compensate passengers for travel disruption.
Network Rail said it has taken the decision to temporarily scrap charges at Charing Cross and Victoria stations.
Commuters at Victoria station usually have to splash out 50p to spend a penny.
A spokesman for Network Rail said: "There are currently no plans to remove charges at other stations."
He said the firm does not profit from the charges, which are used to pay for maintenance and prevent misuse.
"Any money raised from the charges is reinvested into the railway and passenger facilities at our stations," he said.
Victoria is partly served by Southern Rail, which has faced severe disruption in recent months due to an ongoing industrial dispute.
Services to Charing Cross have been affected by works at London Bridge station.
So far this year, revenue from the toilets at Victoria station has totalled £1.4m, while revenue from the toilets at Charing Cross station totalled just over £155,000.
Toilet charges at London Bridge were scrapped earlier this year when a new station concourse opened.
London's Cannon Street station has not charged passengers to use its toilets for some years.