'Wolf of Wall Street' groper jailed for 12 months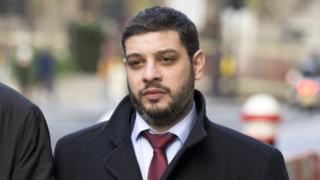 A City boss has been jailed for molesting two women in an atmosphere one of the victims said was like the Hollywood film The Wolf Of Wall Street.
Anthony Constantinou, 35, assaulted the women during after-work drinks at or near his City offices in London's Square Mile.
Last month he was convicted of two counts of sexual assault and cleared of one count relating to a third woman following a retrial.
Constantinou was jailed for 12 months.
Sentencing, Judge Nicholas Cooke QC said: "Sexual bullying in the workplace blights lives.
"There are eminently foreseeable consequences."
Constantinou's trial heard that in October 2014, he pushed one woman up against the frosted glass of the reception area in his offices and went on to grope and kiss her against her will.
The then chief executive of corporate business and solutions company CWM grabbed the woman, saying he could "do what he wanted with her" because she did not work for the company, the court heard.
Then in February 2015, he assaulted another woman during drinks after a business meeting.
Wasabi paste assault
During the meeting, Constantinou threw her mobile phone against a wall and told her: "Don't answer phones in my meeting."
Later that night, he assaulted her by picking up a big chunk of hot wasabi paste and shoving it in her mouth.
He also remarked to a colleague about her physical appearance which caused her to leave the room.
Constantinou followed her and pinned her against a partition before assaulting her in what she described as a "disgusting" manner.
She told police that he shoved his tongue in her mouth as if she was "a piece of meat".
She added: "It's literally like the film Wolf Of Wall Street.
"I just cannot believe it because... you hear about trading floors but you never see it.
"So I am kind of going like 'this is getting out of hand'."
Constantinou had worked for a pharmaceutical company for two years before getting his first job in the City.
In mitigation, Constantinou's lawyer suggested that, after becoming a chief executive, he maybe had "too much power too young".
His Cypriot wife, Penny, with whom he has two young children, supported him in court throughout the trial and appealed to the judge in a letter.