Eddie Izzard's homophobic attacker given suspended sentence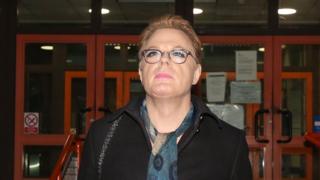 A man who hurled homophobic abuse at comedian Eddie Izzard has been given a 20-week suspended prison sentence.
Jamie Penny shouted at Mr Izzard on several occasions, once threatening to "do" the 54-year-old's house after an altercation.
A month later he yelled to Mr Izzard that he was a "poofter" after seeing him in the street.
Leaving Westminster Magistrates' Court, Penny, who has autism, said: "Eddie Izzard is going to burn in hell."
The 24-year-old, who also has Attention Deficit Hyperactivity Disorder (ADHD), was sentenced after being found guilty of two counts of using threatening and abusive words or behaviour with intent to cause harassment, alarm or distress.
Mr Izzard told Penny's trial he pressed charges to take a stand against "thousands of years of transgender people being aggressively attacked".
Penny, from Pimlico, also damaged a police cell after being arrested, and was sentenced for two previous unrelated charges - bombarding his ex-girlfriend with threatening and abusive phone calls and text messages and damaging her father's car, both of which he pleaded guilty to last month.
Penny's trial heard on 3 April he threatened Mr Izzard in Pimlico telling him "Izzard, we are going to do your house when you are away" when the actor refused him and a friend a ride in his car.
On 4 May, the court heard Penny shouted "you're a poofter" at Mr Izzard across a road near Victoria station.
In a victim impact statement read to the court, Mr Izzard said: "I would like to say that I do not scare easily and I refuse to be easily scared but this has made me very wary of who is on the street and who may be next to me."
Penny, whose prison sentenced was suspended for a year, was also ordered to pay £500 costs and £100 compensation to Mr Izzard.