Mayor Sadiq Khan reveals plan to build 90,000 homes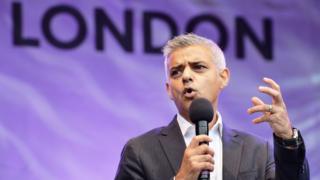 The mayor of London has revealed plans to build 90,000 new homes in the capital over the next six years.
The homes will be a mix of low-cost rent, shared ownership and a new "London living rent"- based on a third of average incomes in each borough.
The majority of homes are expected to be delivered by housing associations.
But Sadiq Khan has been accused of "watering down" his manifesto promise target of 50% affordable housing in all new developments in London.
He said: "These announcements today demonstrate real progress on the long road towards fixing London's housing crisis."
Under the plans, £3.15bn allocated to City Hall in last week's Autumn Statement will be used to fund housing associations who build a minimum of 50% affordable homes.
But new planning guidance, also announced on Tuesday, will allow private developers to limit affordable housing included in new developments to 35%.
Tory Chairman of the London Assembly Housing Committee Andrew Boff told BBC London Mr Khan's promises are "evaporating like a mist on Hackney marshes".
"Even with the watered down figure of 35%, he's actually said that if you come forward with a good enough excuse I'll let you build even less" he said.
Deputy Mayor for housing and residential development James Murray said that "50% is still the long-term ambition and it was unrealistic to expect tens of thousands of new homes to pop up overnight."
Full details of the new "London living rent" scheme have yet to be announced but will be based on allowing tenants to save up for deposits, with providers expected to support a move to ownership.
The Green Party has warned the scheme "appears very like" the government's Rent to Buy programme, which "demanded a good credit rating as well as an annual income up to £60,000".