Richard Merry, 65, found 10 hours after North Ealing beating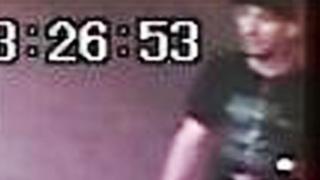 Scotland Yard has released an image of a 65-year-old who was discovered lying on the ground 10 hours after a "savage" beating.
Workmen found Richard Merry on a patch of grass near North Ealing Underground station in west London.
The image has been released more than two months after the 13 September assault in a bid to trace Mr Merry's attacker.
The retired painter and decorator remains in hospital.
Described by the Metropolitan Police as a "born and bred Londoner", he sustained brain injuries, damage to his eye sockets and cracked ribs.
CCTV showed Mr Merry, from Wimbledon, in an argument with an unknown man in Station Road, Ealing, between 2am and 3am.
Det Con Joe Cato said: "Mr Merry was the victim of a vicious assault and then left outside to be found hours later."