Patrick Adams: 'Crime family' member admits shooting man amid 'grass' claims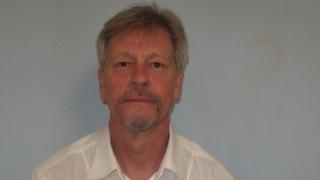 A leading member of the infamous Adams crime family has admitted shooting in the chest an associate he suspected of being a "grass", a court heard.
Patrick Adams, 60, of Finsbury, north London, pleaded guilty to causing grievous bodily harm with intent to Paul Tiernan.
Mr Tiernan, who was shot in his car on 22 December 2013, refused to co-operate with the police investigation and an attempted murder charge was dropped.
Adams will be sentenced on Friday.
Adams is the younger brother of Terry Adams, supposed head of the Clerkenwell crime syndicate which bears the family name and is known to some as the A-Team.
At Woolwich Crown Court no evidence was offered against Adams' wife Constance Adams, 56, who also denied the same charges, and she was discharged.
The court heard that Adams and Mr Tiernan had been close associates but were feuding at the time of the attack.
---
'A-Team' exploits
The Adams family crime syndicate, known to some as the A-Team, operated in London's underworld throughout the 1980s and '90s
The gang started off in petty crime and went on to armed robbery before diversifying into drug trafficking
At the height of their power, in the late 1980s, they were in charge of most of the cannabis, ecstasy and cocaine coming into the capital
The gang is suspected of involvement in a number of murders, but so far this remains only speculation
Patrick Adams had convictions dating back to 1968, when he was 12-years-old, including being sentenced to seven years for robbery, attempted robbery and having a shotgun in 1976
In 2007 Adams' older brother Terry Adams was jailed for seven years for money-laundering
---
A note found in Adams' flat during the investigation revealed Mr Tiernan was angry about being called a "grass" - or informant, prosecutor Crispin Aylett QC told the court.
Reading the letter to the court, Mr Aylett said: "We are men. Face me. The truth will hurt."
CCTV showed Adams walking towards a car in Clerkenwell and then fleeing the scene with his wife Constance just moments after a gunshot had rung out.
The court heard that Mr Tiernan had originally held the gun, which Adams wrestled from him after "fearing for his safety and that of his wife".
After Mr Tiernan refused to co-operate, all charges against Constance were dropped and Adams admitted the lesser charge of causing grievous bodily harm with intent.
Adams and his wife fled to Amsterdam after the shooting, but were extradited back to the UK earlier this year to face a trial for attempted murder.