Heathrow protest: 15 charged over demo on motorway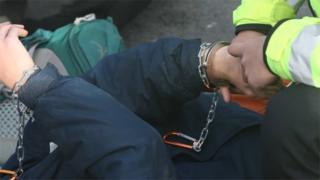 Fifteen people have been charged after campaigners against airport expansion staged a protest near Heathrow Airport.
A small group of people ran on to the M4 spur road and laid down in front of oncoming traffic on Saturday, causing temporary disruption.
People aged between 21 and 67 have been charged with wilful obstruction of the highway, according to the Met Police.
They have all been bailed to appear at Ealing Magistrates' Court on 22 December.
---
Among the accused are seven Londoners. They are: Isabelle Anderson, 30, of Stratford; Madeleine Allis-Petersen, 24, of Ealing; Joanne Louise Bodimeade, 28, of Lambeth; Alexis Delage, 25, of Lewisham; Sophia Lysaczanko, 28, of Haringey; Tom Venner-Woodcock, 29, of Southwark; and Tess Lotter, 30, of Camden.
The others charged are: Antoine Thalmann, 25, and Henry Owen, 23, both of Oxford; Simon Bramwell, 44, of Stroud, Gloucestershire; Ian Bray, 49, of Kirklees, West Yorkshire; Graham Lewis, 53, of Wells, Somerset; Thomas Harford, 26, and Margaret Charnley, 67, both of Bristol; and Sibi Moore, 21, of Sidmouth, Devon.
---