Met to launch smaller spit hood pilot scheme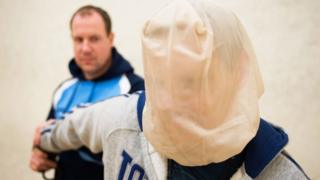 The Metropolitan Police is taking views on the use of hoods to stop arrested people spitting or biting.
It is to consult organisations across north-east London ahead of a planned pilot scheme in the new year.
Spit hoods will be tried out in five London boroughs: Newham, Redbridge, Waltham Forest, Barking and Dagenham and Havering.
A planned trial across all 32 London boroughs was abandoned in September when the new London mayor intervened.
The Met said the new consultation would be open until 5 December.
'Real problem'
Liberty, Amnesty and Inquest are among the human rights groups which have spoken out against the hoods in the past saying they are cruel and degrading.
But the Met said it had a duty of care to its officers and staff and the issue of suspects spitting at or biting police officers had become a real problem.
The consultation and pilot announcement come less than a week after the BBC learned a third of UK police forces use hoods.
The mesh fabric spit hoods are used by 17 of the UK's 49 police forces, including the British Transport Police (BTP) which operates in London railway stations and on the Tube.
A initial pilot scheme, which would have seen spit hoods or guards tried out in police station custody suites was agreed in February by the Met's Policy Forum,
But the pilot was abandoned when newly elected London Mayor Sadiq Khan raised concerns about their use.
The Met expects the new pilot scheme to last for three months in five custody suites in north-east London.
After the trial, the Met, along with the Mayor's Office for Policing and Crime (MOPAC), will assess the success of it and decide whether to expand the use of spit guards to other custody suites in London.