Thousands brave rain for Lord Mayor's Show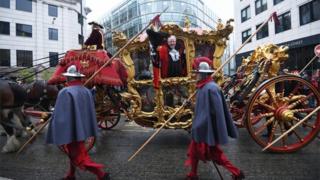 Thousands of people braved the rain in London to watch the annual Lord Mayor's Show on Saturday.
The pageant, which is in its 801st year, saw about 7,000 people take part.
The procession marks the first public engagement of the new Lord Mayor, Andrew Parmley.
It sees the Lord Mayor travel from the Guildhall past St Paul's cathedral to the Royal Courts of Justice where he swears allegiance to the Crown.
For more stories about events in England follow our Pinterest board
Dr Parmley becomes the 689th Lord Mayor of London. He is currently principal of the private Harrodian School in Barnes, and has experience in the creative industries, education and music.
The Lord Mayor's Show began in 1215 as a river pageant on the Thames.
The show continued on the Thames for more than 400 years until the Corporation of London handed over responsibility for the tidal Thames to the Thames Conservancy in 1857.
The pageant involved members of the armed forces, while the London Fire Brigade took part in in the parade to celebrate its 150th anniversary.
The end of the day saw a fireworks display between Blackfriars and Waterloo bridges.