Man found guilty of manslaughter of Edward Stokes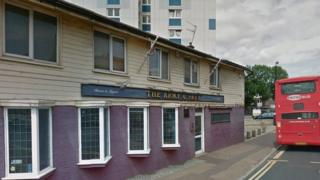 A man has been convicted of manslaughter following the death of a man who suffered stab wounds in a fight outside a pub in east London in March.
Reece Hussain-Lester, 22, was found guilty at the Old Bailey on Friday.
Edward Stokes suffered multiple stab wounds during a larges scale fight which broke out at the Army Navy Public House in Plaistow at midnight on 19 March.
Four men were found at the scene with stab wounds.
The men aged 18, 19, 29, and 37 were taken to hospital for treatment. Three of the men were treated for non-life threatening injuries and later discharged from hospital.
Bur Mr Stokes was left critically injured and died in hospital the next morning.
Mr Stokes had been at the pub drinking with family members when there was a confrontation between his group and Hussain-Lester and his associates.
Hussein-Lester presented himself at a south London police station on 29 March where he was arrested on suspicion of murder and other offences. He was charged on 30 March.
He was also found guilty of one count of wounding with intent to cause grievous bodily and one count of unlawful wounding.
He was found not guilty of a count of causing grievous bodily harm.
He will be sentenced on 14 November.
Another man, George Forde, 22, was acquitted of murder, three counts of causing grievous bodily harm and possession of an offensive weapon.
No further action was taken against 10 people - six women and four men - who were arrested in connection with the fight.