Jamal Mahmoud death: Second Pentonville prison murder charge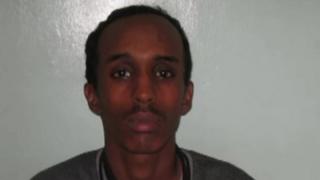 A second man has been charged with the murder of a Pentonville prison inmate.
Robert Butler, 30, was charged on Tuesday following last month's fatal stabbing of new father Jamal Mahmoud, 21, on the north London prison's G wing.
The Met Police said Mr Butler was remanded in custody until a court date can be set.
Basana Kimbembi, 34, has also been charged with Mr Mamoud's murder and will appear at court at a later date.
The G wing is the same wing from which two prisoners, James Whitlock and Matthew Baker, escaped on Monday.