Stefano Brizzi trial: Jury retires in strangled PC case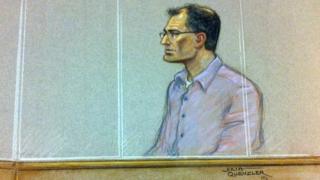 Jurors in the trial of a drug addict accused of strangling a police officer and dissolving his body in an acid bath have retired to consider their verdict.
Stefano Brizzi denies murdering PC Gordon Semple, 59, at his south London flat, claiming he died accidentally during a sex game.
The Old Bailey jury heard the defendant was inspired by the TV drama Breaking Bad as he tried to dispose of the body.
The 50-year-old, from Italy, has admitted obstructing a coroner.
Mr Brizzi told jurors that Mr Semple, from Greenhithe, Kent, died when a dog leash he was wearing slipped.
However, the prosecution said it would have taken minutes rather than moments for the police officer to die from strangulation.