Brixton station's 'first' black history statues listed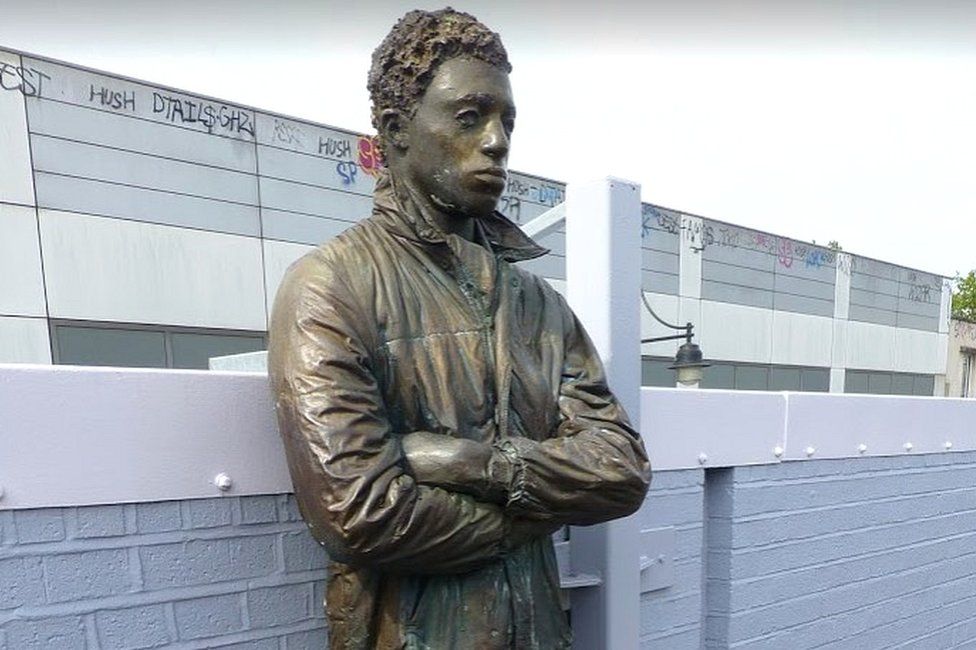 Three statues which are believed to be the first public sculptures of black British people put up in England have been given protected status.
The life-sized bronze figures, called Platforms Piece, were erected at Brixton railway station in 1986 and are based on local residents.
A bust of Nelson Mandela on the South Bank and Brixton Recreation Centre have also been given Grade II listing.
Tracey Crouch MP said the places have a "strong connection to black history".
The heritage minister added that it was "vital that we continue to recognise all that have played a role in shaping our history."
Platforms Piece was commissioned by British Rail during a 1980s station improvement scheme at a time when the area was one of the most economically deprived parts of London.
Artist Kevin Atherton used models from the local community in Brixton to represent the cultural identity of the area.
One of them was Joy Battick, who said it "was a lot of fun" to model for the piece.
Two of the statues are based on people who worked at Brixton Recreation Centre.
Historic England said the the centre, which was opened in 1985, has "rich cultural associations as the location chosen by Nelson Mandela during a visit in 1996" and is still a "valued social centre".
The bust of Nelson Mandela was completed by sculptor Ian Walters in 1982 to commemorate the 70th anniversary of the foundation of the African National Congress.
It was originally displayed by the Greater London Council but was moved to its position on the South Bank in 1985.
Historic England Chief Executive Duncan Wilson said the agency wanted to "make sure that when we celebrate historic places, everyone, regardless of gender, race or orientation sees their places represented".