Lucy Sparrow exhibition: Making shoplifting an art form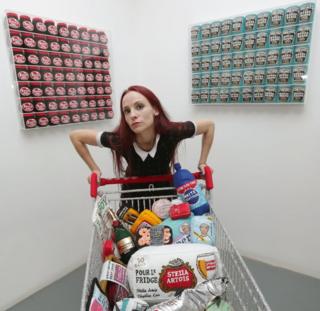 Nappies, strong mints and smoked salmon slices are among the most popular supermarket items taken by shoplifters, according to artist Lucy Sparrow.
And now, based on responses from up to 30 supermarkets, she has created an exhibition called Shoplifting.
The subject matter was inspired by her experience of working in supermarkets in her late teens and early 20s.
Lucy, who works in felt, said she aimed to use comedy to highlight a potentially serious issue.
Ms Sparrow worked in Sainsbury's and Asda for about four years and had first-hand experience of shoplifters.
She said: "They had an acronym, STONE, for how to deal with it. You have to See them Taking it, Observe them not paying and see them Exit the store before you can challenge them."
Between July 2015 and June 2016 police forces in England recorded 340,719 shoplifting offences, compared with 330,266 the previous year.
An Office for National Statistics (ONS) spokesman said shoplifting was a widely underreported crime but the figure had previously stabilised for about a decade, around the 300,000 offences mark.
Ms Sparrow's exhibition looks at how ordinary shoplifting is and, with 97% committed by non-professional thieves, she said you probably know someone who has swiped something from the shelves.
From Ms Sparrow's research, she said the motivation for shoplifting varied.
She said: "There are those who steal to order, who make it their career; there are others who are opportunist thieves and some who just can't be bothered to queue."
Ms Sparrow said she did not condone shop lifting, but she was not necessarily against it either.
"If you can get away with it, great. I am not saying go out and do it, but sometimes people are trying to make ends meet - it's a hard world," she said.
"But if anyone tries to steal something from my exhibition, well, go ahead and try," she added.
Lucy Sparrow's exhibition Shoplifting runs from 4-29 November at the Lawrence Alkin Gallery in London.