Alleged serial killer Stephen Port 'made up sex party story'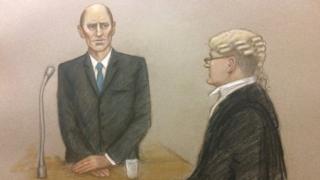 An alleged serial killer has rejected claims he lied about attending a "sex and drugs party" with two men he is accused of killing.
Stephen Port, 41, told the Old Bailey he travelled to the party on 26 August 2014 with Gabriel Kovari, 22, where they met Daniel Whitworth, 21.
But the prosecution said Mr Whitworth was at a pub in Gravesend when Mr Port said the party occurred.
He denies 29 charges including murder, rape, sexual assault and drugging.
Mr Port had claimed that Mr Kovari and Mr Whitworth had sex in front of up to 11 other people at the party in east London.
Afterwards, Mr Port said Mr Kovari and Mr Whitworth returned to his flat in Barking, east London "to get a bit more privacy".
Prosecutor Jonathan Rees QC accused Mr Port of fabricating the account, and said he had been "caught out".
Mr Rees said the defendant was suggesting the two men had suddenly "got coy and bashful" after having sex in front of other people.
He also asked Mr Port how Mr Whitworth could have been "in two places at once".
"I've no idea. I just know it was as I remember it," Mr Port replied.
Mr Port also said he would be unable to locate the address of the party nor did he know whose property it was.
Mr Kovari's body was found in a churchyard near Mr Port's flat on 28 August 2014 - and Mr Whitworth was discovered dead in the same spot three weeks later.
A "suicide note" found in Mr Whitworth's hand - which Mr Port admits writing but claims was dictated to him - said Mr Whitworth had accidentally killed Mr Kovari and was taking his own life as a result.
Mr Port denies killing Mr Kovari, from Lewisham, Mr Whitworth, from Gravesend, Jack Taylor, 25, from Dagenham, and Anthony Walgate, 23.
He is accused of giving each man a fatal dose of date rape drug GHB.
The trial continues.