Alleged serial killer Stephen Port denies 'playing God' with victims' lives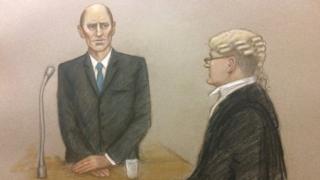 An alleged serial killer was "playing God" by manipulating and controlling the young men is he accused of killing, a court has heard.
Stephen Port, 41, denies murdering four men by giving them fatal doses of date rape drug GHB.
Giving evidence at the Old Bailey, Mr Port said he lied to police about knowing three of his victims to "save his skin".
He told jurors the "truth sounded like a lie".
The chef, from Barking, east London, is accused of murdering Anthony Walgate, 23, Gabriel Kovari, 22, Daniel Whitworth, 21, and Jack Taylor, 25.
'Determined liar'
All four were found close to his flat over a 15 month timeframe.
After Mr Walgate's body was found, the court heard, Mr Port told officers investigating the deaths he did not knowing Mr Kovari or Mr Taylor, but said Mr Whitworth was someone he might have heard of.
During cross examination, prosecutor Jonathan Rees QC accused him of repeatedly lying to jurors during more than two days in the witness box.
Mr Port said he had not lied while giving evidence but accepted it would be hard for people to believe his account of the charges.
However, he agreed with the prosecutor's assertion that he could be a "determined liar to save your own skin".
Mr Rees said: "The essence of it is, you like playing God and manipulating and controlling young men."
Earlier, the court heard Mr Port's account of his meeting with Mr Taylor.
He said Mr Taylor had agreed to his idea of getting "mega high" when they met at his flat to have sex.
He said they then went to a local park, near to a churchyard where two other men Mr Port is accused of killing were found dead, because they were both "very sweaty and hot" in his flat.
Mr Port said he left Mr Taylor sitting against a church wall "feeling tired", but that he had been "very much alive".
In court, he denied the suggestion he might have "slipped" Mr Taylor drugs without his knowledge or consent and that he had sex with him while he was asleep or unconscious.
Mr Taylor's body was discovered on 14 September 2015.
The prosecution say Mr Taylor died in Mr Port's flat a short time after meeting him and that his body was then dumped nearby.
Mr Port denies a total of 29 charges, including four murders, as well as offences of drugging, rape and sexual assault.
The trial continues.