Lily Allen 'told by cabbie to find an immigrant driver'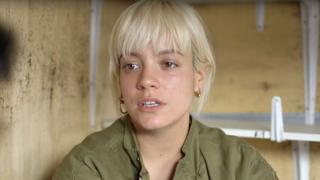 Singer Lily Allen said she has had a "glimpse of what it feels like to be discriminated against" after being shunned by a taxi driver.
The 31-year-old tweeted she was turned away from a black cab and told to "find an immigrant" to give her a ride.
The alleged altercation comes after she apologised "on behalf of my country" over squalid conditions at the Jungle camp in Calais.
The Licensed Taxi Drivers' Association said it condemned abusive behaviour.
'Definitely didn't happen'
The singer wrote on Twitter: "Just tried to get in a black cab with my kids. The driver looked at me and said 'find an immigrant to drive you you stupid tart'."
She went on to add: "Having lived a life of privilege, that interaction has given me a tiny glimpse of what it feels like to be discriminated against."
Her claims have been questioned by some. One Twitter user said it "definitely didn't happen", while another asked her to reveal the taxi's registration plate.
She wrote they were "victim shaming" her and replied: "I had both my hands full with children, couldn't get to my phone fast enough."
The association, which represents about 5,500 black cab drivers in London, said it was urging regulator Transport for London to investigate the pop star's claims.
General secretary Steve McNamara said: "While it is not clear whether the driver in question was a member, we take any allegation such as this extremely seriously and would condemn any cabbie who treats anyone with such disrespect and uses abusive language in this way.
"The driver in question has put their licence in jeopardy with this appalling behaviour."
Earlier this month Allen broke down in tears on the BBC's Victoria Derbyshire programme while meeting 13-year-old Afghan boy Shamsher Sherin.
He said he had been at the migrant camp for two months while waiting to be reunited with his father in Birmingham. He joined his father in the city about a week later.
During their meeting, Allen told Shamsher: "It just seems that at three different intervals in this young boy's life, the English in particular have put you in danger.
"We've bombed your country, put you in the hands of the Taliban and now put you in danger of risking your life to get into our country.
"I apologise on behalf of my country. I'm sorry for what we have put you through."