PC Gordon Semple murder accused 'had no intention to harm'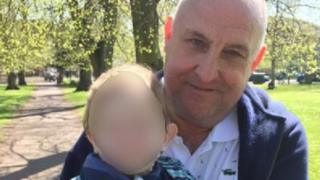 A man accused of strangling a police officer has told his trial he had no intention of hurting him.
Stefano Brizzi, 50, told the Old Bailey that PC Gordon Semple visited his flat on 1 April for "the purpose of having fun".
They had previously agreed to meet on gay dating app Grindr for sadomasochistic sex.
Mr Brizzi, from south London, denies murdering the 59-year-old officer but admits disposing of his body.
Asked if he deliberately killed PC Semple, Mr Brizzi replied: "No."
Asked if he had any intention of causing him harm, he said: "None whatsoever."
'Extreme fantasies'
Mr Brizzi told the jury that PC Semple had been at his flat "for the purpose of a casual sexual encounter".
But, appearing to cry, he accepted he had dismembered and destroyed his body.
Mr Brizzi told the court that he had become addicted to crystal meth and quit his job at Morgan Stanley in 2015.
He said he lived off his savings while trying to solve his addiction problems.
The jury heard that on the day of the policeman's death, Mr Brizzi and PC Semple took drugs together and engaged in sexual activity.
Mr Brizzi said PC Semple appeared to be "very happy" to be with him and told the jury the police officer said he wanted to "explore some extreme fantasies".
The court has previously heard that Mr Brizzi placed a hood over PC Semple's head upon his request to be restrained and whipped.
The trial continues.