Two men interviewed over London City Airport chemical scare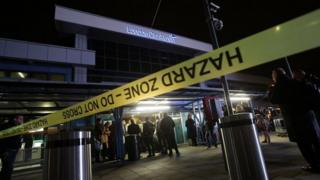 Two men have been interviewed under caution on suspicion of possessing pepper spray after a chemical alert led to the closure of London City Airport.
About 500 people were evacuated from the east London airport on Friday after some passengers suffered breathing difficulties.
Scotland Yard said the men, aged 32 and 47, were not arrested but were spoken to about the offence.
A man who was arrested and bailed will no longer be proceeded with.
Paramedics treated 25 people at the scene while two others were taken to hospital during the alert.
The closure of the terminal also led to travel chaos, with all flights suspended and incoming flights being diverted to other airports.
A canister, which police had thought was "a CS gas or spray", was discovered during a search of the terminal on Friday afternoon.
Possession of pepper spray is an offence contrary to the aviation security act 1982, according to the force.
Scotland Yard said the alert was not being treated as terrorist-related and was being investigated by aviation policing officers.