British Transport Police wants armed officers to use the Tube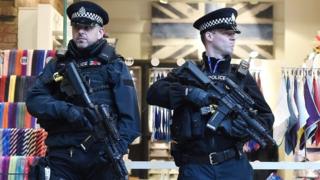 British Transport Police (BTP) wants its armed officers to be able to travel around London on the Tube network within the next few months.
It says the presence of uniformed marksmen on the Underground will reassure the public and allow them to reach their destinations more quickly.
BTP insists there will not be armed patrols in carriages, but rather a new way for officers moving between jobs.
At present, armed officers use marked cars to travel around the capital.
BTP says it has been considering its armed officers using the Tube for months and it is not a knee-jerk reaction to the incident at North Greenwich last Thursday.
Dogs units would also use the Underground as part the proposal.
Sources from BTP believe it is an operational decision for the force to take, but it is consulting with others on the plan.
But the announcement has come as a surprise to the Mayor of London whose team see the move as a big change.
City Hall sources say the proposal needs to be properly discussed.
They are worried that while some Londoners may be reassured at the sight of armed officers on the Tube, others may be alarmed and believe the terror threat level has increased - when it has not.
The proposal is only for armed officers from the British Transport Police to use the Tube, the Met Police is not suggesting any change to its policy.
There are currently 700 BTP officers in the capital but, for operational reasons, the force will not say how many are armed.
By comparison, the Met said in August it has 2,200 armed officers in London but is increasing this by 600 to 2,800.