Northolt armed stand-off: Man sectioned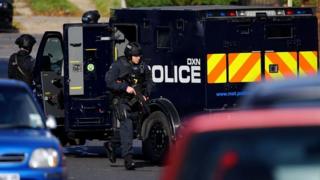 A man who was arrested following a three-day stand-off involving armed police in west London has been detained under the Mental Health Act.
Officers forced entry to the house in Wood End Lane, Northolt, on Sunday after negotiations failed.
The man, 46, was arrested on suspicion of cultivation of cannabis, affray and offences under the explosives act.
Scotland Yard said he also was bailed until mid-December while a mental health assessment is completed.
About 80 residents were evacuated from their homes during the stand-off over fears the man had stockpiled petrol in the house.
A 200m cordon was set at 01:00 BST on Friday, then extended to 300m, and residents had to be temporarily re-housed.
Specialist officers from the Territorial Support Group entered the house on Sunday at 20:10 and the man was arrested.
In a statement, the Met said that while "cordons have been removed... police are still examining the crime scene, which will take some time".
"There was a huge amount of disruption to local residents...we ask for their continued patience as we finish the work at the scene," a spokesman said.
The actions taken by police during the stand-off are also to be reviewed, the Met has said.