Alleged serial killer Stephen Port 'drugged and raped close friend'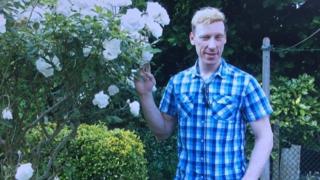 An alleged serial killer drugged and raped a man who regarded him as a close friend, a court has heard.
Stephen Port, 41, is accused of "badgering" a man into taking mephedrone at his London flat in 2015.
The 24-year-old told the Old Bailey that he passed out and when he woke, Mr Port was having sex with him which he had not consented to.
Mr Port denies 29 counts, including four murders, as well as offences of drugging, rape and sexual assault.
The man, who cannot be named for legal reasons, said he was 16 when he first met Mr Port on the dating website Gaydar.
He told jurors "a loner like me doesn't have many friends" and for a time he regarded Mr Port as his "best friend."
'Like God in his flat'
He had become ill in 2014 after Mr Port had given him a "bad batch" of mephedrone mixed with liquid, the court heard.
They next saw each other in October 2015 at Mr Port's flat in Barking, east London.
The man told jurors the accused made him take mephedrone as "he'd spent his money and I was being an ungrateful friend."
He said he fell unconscious and woke in bed to find his legs over Mr Port's shoulders.
When asked what the defendant was doing, he said he was having sex with him, and that he had not consented.
The man added that "I couldn't concentrate" and it was "like I was there but I wasn't there."
The court heard he returned to Mr Port's flat one week later, as he thought they would be joined by another man who then did not turn up.
He told the jury he was raped again after snorting more mephedrone, and that Mr Port had injected him with drugs against his wishes.
"I didn't feel like a human. I didn't feel like I was being treated like a person," he told the court
Asked whether he had been able to refuse Mr Port, he said Stephen was like "god in his flat" and "you did not argue with him".
The trial continues.