Michael Coe fails to appear in court over cuddling teens attack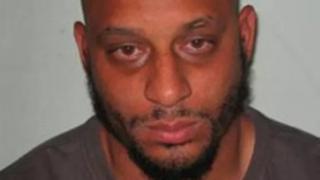 A judge vented his anger at the defence lawyers of an associate of hate preacher Anjem Choudary after he failed to appear in court for sentencing.
Michael Coe, 35, was due to be sentenced for knocking a schoolboy unconscious because he cuddled a girl.
The Muslim convert was convicted of actual bodily harm and battery in August at Southwark Crown Court following the assault on 15 April.
Judge Michael Gledhill was forced to put back the date of Coe's sentencing.
Grace Forbes, defending, asked for an adjournment so reports on Coe's "dangerousness" and "de-radicalisation" could be prepared.
But Judge Gledhill said: "I have a note from Belmarsh prison simply saying the defendant stated he was not required, even though he was told he was required.
"I do not believe a report dealing with his de-radicalisation will assist me - I'm sentencing this man on what he has done, not what his state of mind is in the future."
Unconscious and bleeding
Coe was driving through east London when he spotted two 16-year-olds hugging on the pavement.
The married father of two pulled over to confront the pair, demanding to know if they were Muslims, before calling the boy's girlfriend a "whore".
He then grabbed the boy by the throat and threw him to the ground before kicking his head as he lay on the floor, leaving him unconscious and bleeding from two head injuries.
Coe was radicalised in prison by Al-Qaeda terrorist Dhiren Barot while serving an eight-year term in 2007 for firing a shotgun at police during an arrest.
Since known as Mikaeel Ibrahim, he became a close associate of Choudary when he joined the banned organisation Al-Muhajiroun.
He will now be sentenced on 11 November.