Body cameras given to Guy's and St Thomas' hospital staff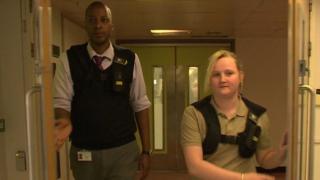 Body cameras will be given to security personnel at two south London hospitals after attacks on staff increased by almost a third in six months.
Between April and September there were 850 recorded assaults on hospital staff at Guy's and St Thomas', compared to 620 in the same period in 2015.
Head of hospital security, Jayne King, said the cameras had been introduced "to assure our staff of their safety".
They will be used as part of a six-month trial period.
Between April and September there were also 75 arrests in the two hospitals, compared to 30 in the same six months in 2015.
Twenty-six patients were excluded from the Trust, meaning they will only be provided with emergency treatment, compared to seven the year before.
The hospitals' chief nurse, Dame Eileen Sills, said nursing staff and patients "felt threatened and intimidated by a small number of patients and visitors".
"Any unprovoked violence and aggression towards staff is unacceptable. If people do abuse our staff we will take robust action and pursue them through the courts if necessary," she said.
Supt Roy Smith, of the Met, said he hoped the cameras could be "something that other NHS Trusts would look to roll out across London" if the trial is a success.
The force recently announced it was giving body-worn cameras to about 22,000 front line officers.