Injured seal rescued from Thames after being 'hit by boat'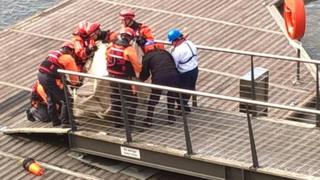 An injured seal that became stranded on a bank of the river Thames has been rescued after "colliding with a boat".
The animal was discovered on a pontoon near Kew Bridge, West London, and brought to safety after a 90-minute rescue by the fire service and RSPCA.
The animal charity said it was not unusual for seals to venture up the Thames.
But the seal appeared to have become stranded after emerging from the water with an injury, it said.
An RSPCA spokeswoman said: "It's not uncommon for seals to venture up rivers away from the sea looking for food and they normally manage to find their way back unless they are sick, when they will haul themselves out of the water.
"In this instance, however, we are concerned for the seal's welfare as the animal appears to have an injury to the eye, perhaps consistent with being hit by a boat."