Alleged serial killer Stephen Port 'had body in flat'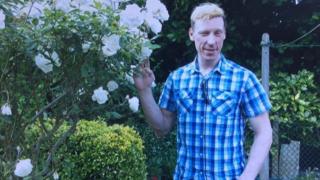 An alleged serial killer told his sister there was a dead man in his bedroom, a court has heard.
Stephen Port, 41, is accused of murdering four men with lethal doses of drugs after luring them to his flat.
Giving evidence for the prosecution at the Old Bailey, Sharon Port said she felt "sick" with worry when he told her about the body during a phone call.
He denies 29 charges including four counts of murder, as well as drugging, rape and sexual assault.
Ms Port, 44, told jurors she called her brother a number of times in August 2014 around the time of the death of Slovakian Gabriel Kovari, Mr Port's alleged second murder victim.
During a call on 27 August, she said, her brother seemed stressed but did not want to tell her what was wrong at first.
Eventually, she said, Mr Port told her a man was in his bed after staying the night, but he could not wake him up.
"He just said there was a body in his flat and I just told him to go to the police straight away. I was in a bit of a shock," she said.
"They had taken drugs but I didn't know what," Ms Port said.
She told jurors: "I was sick about it. It's not the sort of thing you hear every day. I was very worried. I wanted him to drop everything and go to the station then ring me when he got out and tell me what happened."
Ms Port said she was so concerned that she began driving to her brother's flat in Barking, east London, from her home in Clacton-on-Sea.
While she was en route, Mr Port called to say he had been bailed by police, the court heard.
When she went to his flat, he appeared "stressed and tired", she said.
The court heard Mr Kovari's body was found by dog walker Barbara Denham in a churchyard near Mr Port's home on 28 August.
Ms Denham told jurors how she also discovered Mr Port's third alleged victim, 21-year-old Daniel Whitworth, on the morning of 20 September in exactly the same place.
Giving evidence, Ms Denham broke down as she described her shock at finding two bodies in the space of two months.
She said Mr Kovari, who the court heard was also known as Gabriel Kline, was unresponsive and cold to the touch.
Less than a month later, she found the body of Mr Whitworth in the same spot and "lying in exactly the same position."
She added: "I could see he had some form of a note in a plastic folder but I did not touch that.".
Mr Port is accused of planting a fake suicide note on the body of Mr Whitworth. He has admitted writing the message, but claims it was dictated to him by Mr Whitworth.
Prosecutor Jonathan Rees QC told the court: "As we know the suicide note purports to say that Daniel has taken his own life by taking an overdose because he cannot deal with the guilt he feels for the death of Gabriel Kovari."
Text of 'suicide note' found on Daniel Whitworth's body
I am sorry to everyone, mainly my family, but I can't go on anymore, I took the life of my friend Gabriel Kline, we was just having some fun at a mate's place and I got carried away and gave him another shot of G [GHB].
I didn't notice while we was having sex that he had stopped breathing.
I tried everything to get him to breathe again but it was too late, it was an accident, but I blame myself for what happened and I didn't tell my family I went out.
I know I would go to prison if I go to the police and I can't do that to my family and at least this way I can at least be with Gabriel again, I hope he will forgive me.
BTW Please do not blame the guy I was with last night, we only had sex then I left, he knows nothing of what I have done. I have taken what g I have left with sleeping pills so if it does kill me it's what I deserve. Feeling dizey [sic] now as took 10 min ago so hoping you understand my writing.
I dropped my phone on way here so it should be in the grass somewhere. Sorry to everyone.
Love always
Daniel P W.
The court has previously heard that the authorities initially accepted the note at face value.
Giving evidence, Mr Whitworth's former boyfriend Ricky Waumsley said there was nothing in his partner's behaviour to suggest he was suicidal.
Mr Whitworth's friend Kate Impey told the court his mother had taken her own life when he was younger and he would would never have killed himself.
She said: "He had a lot of problems with his mum when he was younger and said it was the most selfish thing anyone could ever do, and you should never do it, so I know he didn't kill himself."
Mr Port is also accused of killing Anthony Walgate, 23, originally from Hull, and Jack Taylor, 25, from Dagenham, east London.
Jurors were told Port was jailed for eight months for lying to police about the circumstances of Mr Walgate's death after ringing 999 to report a body outside his flat on June 19 2014.
In March 2015, just before being sent to prison, he told his sister that the dead man from the the previous August whom he had spoken to her about was called Anthony and was from Lithuania, the court heard.
The trial continues.