Chatila raid: Men remanded in custody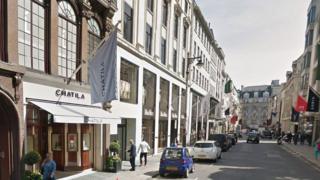 Two men have been remanded in custody after appearing in court charged over a break-in at a luxury West End jewellery store.
Terrence Perkins, 68, and Daniel Jones, 59, are charged with the burglary at Chatila in Old Bond Street in 2010.
The pair allegedly made off with £1m worth of goods and £45,000 cash and are accused of trying to break in to a safe containing £40.3m worth of jewellery.
They were remanded until 7 November by Westminster Magistrates' Court.
A third man, Charles Matthews, 53, from Virginia Water, Surrey, appeared alongside the pair, charged with receiving stolen goods.
Mr Perkins and Mr Jones, both from Enfield, north London, will next appear at Southwark Crown Court on 7 November, while Mr Matthews was bailed to appear at the same court on the same date.
The alleged burglary took place during a Bank Holiday weekend in August 2010.