Mayor accused of 'betrayal' over Silvertown river tunnel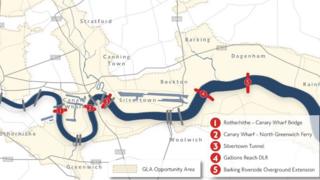 London's mayor Sadiq Khan has outlined plans for greener and more public transport-focused Thames river crossings in the east of the city.
But, plans for a road tunnel from the Royal Docks to the Greenwich peninsular were criticised by protesters who said he was betraying air quality pledges.
However, City Hall said the £1bn Silvertown Tunnel was vital to reduce congestion and improve air quality.
Both are predicted to get worse as London's population grows.
Opponents of the tunnel include Lewisham and Hackney councils, while two of the Greenwich Peninsular's biggest landowners - Knight Dragon and O2 operators AEG - have submitted detailed objections to the planning inquiry, campaign group No to Silvertown Tunnel claimed.
The group said Mr Khan's backing for the Silvertown Tunnel was a betrayal of those who voted for him believing he would clean up London's air.
Anne Robbins, chair of the group, said Mr Khan had "promised a full review of the tunnel, but has made no attempt to reach out to those who will have to live with the consequences.
"For Sadiq Khan to call this a 'greener Silvertown Tunnel' hides the fact that Greenwich and the Royal Docks would become a dumping ground for the south of England's congestion and pollution."
---
Proposed Thames river crossings:
A new pedestrian and cycle bridge linking Rotherhithe & Canary Wharf to be accelerated
A DLR crossing at Gallions Reach, helping support the development of around 17,000 new homes across Newham and the Royal Borough of Greenwich
Further assessment work for a Barking Riverside-Abbey Wood London Overground crossing
Further assessment of a North Greenwich-Isle of Dogs ferry, supporting new development on the Greenwich Peninsular and the Isle of Dogs
---
City Hall said the proposals for the Silvertown Tunnel would include a series of enhancements to make it greener and more public transport-focused while it promised to explore further benefits for local residents.
It added the new crossings would help support development of around 17,000 new homes across Newham and the Royal Borough of Greenwich in the next 10 years.
The tunnel, which would open in 2023, would be paid for via a user charge and is expected to help significantly reduce traffic queues around the Blackwall Tunnel.
Mr Khan said: "With new homes and economic growth across East London, it becomes even more important that we deliver new greener transport links that allow Londoners to cross the river quickly and more easily."
Green Party London Assembly Member Caroline Russell called the plans "extremely disappointing" adding the measures the mayor had put forward were "tokenistic".
"The mayor should be providing residents with choices to cross the river by public transport, on foot or by bike rather than leaving them with little choice but to add to congestion and pollution by using a car," she said.
A six-month public consultation opens on 11 October.