Transport for London to roll out £80m 'Boris Bike' upgrade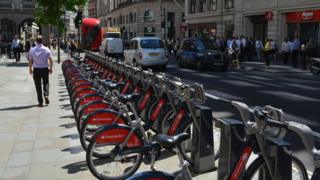 A deal has been signed to bring the next generation of so-called "Boris Bikes" to the capital, as part of an £80m upgrade.
Transport for London (TfL) said 500 new bicycles will be introduced to replace older versions from 2018.
The new model will be lighter, with smaller wheels and a lower frame.
The £79.7m contract has been awarded to Serco, which will continue to manufacture, distribute and maintain the bikes from 2017 until 2022.
Stratford-upon-Avon bike manufacturer Pashley Cycles will build the equipment from 2018.
London mayor Sadiq Khan said: "I'm delighted to be able to announce the next generation of bikes for our popular cycle hire scheme.
"It's already known across the world as a convenient way to get around our city, so it's great news that these lighter British-made bikes will make it even easier for everyone."
More than half of the 11,500 Santander Cycles currently in circulation date back to the launch of the scheme in 2010.
About 785 cycle hire docking stations have been created in London since then.
Responsibility for managing payments and customer service of the scheme is being brought into TfL's wider structure, resulting in a single point of contact for travellers.
It is expected to lead to future discounts on cycle hire charges for people who have reached a daily price cap on other modes of transport.