A Met police officer is run over in Hackney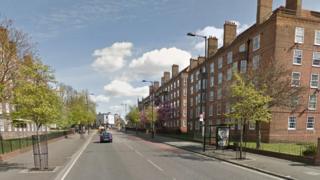 A Metropolitan Police officer was injured when a car was driven at him following a pursuit.
Officers in a marked police van had attempted to stop a car near Sandringham Road, Hackney, east London at about 21:00 BST on Sunday.
Police followed the car, a white Toyota Prius, before it came to a halt in Pembury Road.
As one officer got out of the van to apprehend the driver, the car drove towards him and struck him.
The Toyota was recovered a short time later, the Met said. Enquiries continue to trace the driver, who was the only occupant of the vehicle.
The male officer, who is in his 30s and based in Hackney, sustained injuries to his legs and torso.
He was taken to hospital but was discharged the following day.