Westminster Council calls for total ban on synthetic highs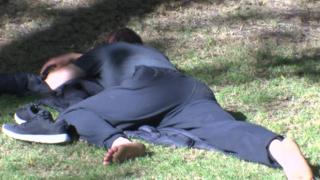 People found to have so-called legal highs in their possession should be prosecuted, Westminster Council said.
The production, sale and supply - but not possession - of the substances was outlawed in May.
Westminster Council said use of the drugs among homeless people in the capital was an "epidemic" and outreach workers felt unsafe dealing with users.
In 2015, synthetic highs were linked to more than 100 deaths and a rise in violent prison assaults in the UK.
The Home Office said the sale of these drugs was already illegal.
'Worse than crack'
Psychoactive substances are known by several names, including Spice, Oblivion, and Man Down - and usually consist of a range of different synthetically produced cannabis.
But Nickie Aiken, Westminster Council cabinet member for public protection, said they remained readily available.
"It's about £10 for a pack and that will last you all day," she said.
"For the first time we are having reports from our excellent outreach workers that they feel really unsafe because the people they are dealing with, their behaviour now is really unpredictable.
"They are either too comatose or too violent for our guys to even try and attempt to make conversation with them," she added.
One London rough sleeper, Nick, said synthetic highs were "worse than crack and heroin" and the withdrawal symptoms made him "feel like killing people".
Arrests
Robert White, who runs the Westminster Council's rough sleeping outreach services, said: "We are getting reports of up to 15 call-outs a day for some of the paramedics we are working alongside."
But Harry Shapiro, director of the charity Drug Wise said criminalising possession was "no definitive answer to the problem" .
"If you confiscate drugs from people in this situation very soon they are going to acquire a new supply," he told BBC London.
A spokesman for the Home Office said since the change in the law, police have arrested suppliers, distributor's shops had closed, stocks had been destroyed and UK websites had been prevented from selling synthetic highs.
It said its future drug strategy would help dependent individuals, including homeless people, to recover.