Lorries face London ban 'to protect cyclists'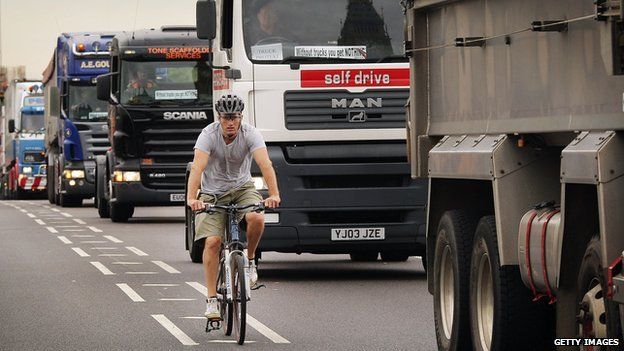 Thousands of lorries could be banned from London to make the roads safer for cyclists, under plans proposed by London Mayor Sadiq Khan.
He wants a rating system from zero to five stars for heavy goods vehicles based on the driver's level of vision from the cab.
Under the proposals 35,000 zero star-rated HGVs currently operating in London would be banned by 2020.
The Road Haulage Association accused the mayor of "demonising lorries".
Only those lorries with a rating of at least three stars would be allowed in to the city by 2024.
In the past two years HGVs were involved in 23% of pedestrian fatalities and 58% of cyclist deaths in London, despite accounting for just 4% of the miles driven in the city, the mayor's office said.
Mr Khan claimed many lorries would be upgraded before the ban comes into place.
He said: "I'm not prepared to stand by and let dangerous lorries continue to cause further heartbreak and tragedy on London's roads.
But the Road Haulage Association's chief executive Richard Burnett believes the proposal is an "imposition of unnecessary rules on haulage firms".
He said: "Demonising lorries is unfair. Lorries, including construction vehicles, play a vital part in the economic life of London. Without them the capital's businesses would grind to a standstill."
His cycling commissioner, Andrew Gilligan, said that idea was cheaper and quicker to implement than Mr Khan's, adding cyclists "will pay the price" of HGV operators not being required to make any improvements for three years.
Related Internet Links
The BBC is not responsible for the content of external sites.