Russell Brand donates Trew Era cafe to charity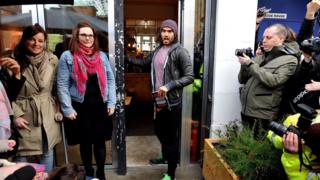 Russell Brand has donated his cafe to a charity that helps former prisoners and those struggling with addiction.
The comedian set up the Trew Era Cafe on the New Era estate, Hackney, last year.
The Rehabilitation for Addicted Prisoners Trust (RAPT) called the donation a "wonderful opportunity" for them to strengthen their work.
Brand joked: "If I ever get sent down I hope this'll mean I get a cushy job in the library."
He set up the cafe, named after the comedian's YouTube show The Trews, as a social enterprise.
It was staffed by former drug addicts who were in abstinence-based recovery.
RAPT's London Recovery Hub is located next door to the Trew Era Cafe.
David Bernstein, RAPT chairman of trustees, said: "This is a wonderful opportunity for RAPT to further strengthen our employment and enterprise activities for ex-offenders and recovering addicts. We're enormously grateful to Russell for his generosity in donating the Cafe."