Swimmers race down the Serpentine in mass open water event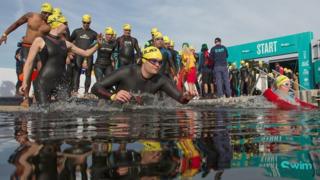 Thousands of swimmers have raced down London's Serpentine in a mass open water event.
More than 4,500 people took part in the mile-long (1.6km) event as part of the open water festival in Hyde Park.
With the swimmers starting in 18 separate waves Guy Davis and Lara Langston, were the first man and woman to cross the finish line.
Ms Langston said: "It was a great swim. I didn't realise it was the first year so it's quite nice to be part of it."
For more stories on events follow BBC England's Pinterest board
Organised by London Marathon Events, places were distributed by ballot after the first 16,000 applications were received.
Hugh Brasher, the event director, said: "Our aim is to grow it into the largest open water swimming event in the UK."
On Sunday the festival turns more serious when it hosts the invitational British Open Water Swimming Championships where swimmers will compete over a 3.1 mile (5km) course.
---
The swimmers
Richard Evans, 24, from Plymouth
"It was a bit longer than I thought it would be but it's my first open water swim and I found it really fun.
"I've done practice in the swimming pool but it took more out of me then I thought, although I was surprised to see how fast some people around me were.
"It's nice being in the heart of London and with the circular course you can see how long the mile is. I'm wearing my medal now and just enjoying the weather with my girlfriend."
Poppy Collinson, 43 from Bath
"It was so much fun. I was actually terrified because I've never done something like that before and made the mistake of seeing how deep it is and psyched myself out, but it was just wonderful and I'd recommend it to anyone.
"With my job I travel a lot and tried getting as much swimming as I could in different countries. I trained in the Moscow Lido which was brilliant, in Kiev and I went swimming in Blakeney creek in Norfolk.
"I swam in a swim-suit but I don't know if it was out of bravery or cheapness. I didn't actually find it that cold after you got over the 'oh my gosh' bit at the start, in fact it's warmer than the sea in summer."
---